Salomon Independence Run and Hike Team member Heidi Vosbeck had a great experience at Ragnar this year with an awesome group of women.  Read on to find out more about her adventure.
I had the privilege to participate on a team with an amazing group of women at the Snowmass Ragnar Relay on June 9 and 10, 2017.  This team originated in 2015, for the same event; however, that summer I was training for Ironman Boulder, so when asked to be on the team, I chose not to participate. The 2016 event was skipped by this group due to the health issues of the team leader and captain.  In about January of 2017, the team decided they would give it another go for this year.  I felt fortunate and honored that I was again asked to join the Baby Boom Hers Team and this time I was not going to turn them down.
We had 9 women (8 runners and 1 volunteer) and were signed up and ready to run in the Women's Master Category.  Our Team Captain and faithful leader was Nancy Reinsch, age 64.  Our dedicated volunteer (which every team must provide) was Maureen Nuckols, age 72.  The remaining members of the team were Carol McCurry, age 66, Helen McQueeney, age 65, Jenny Schiaberger, age 60, Jeanne Blatter, age 59, Heidi Halladay, age 59, Heidi Vosbeck, age 55 and Tianna White, age 55.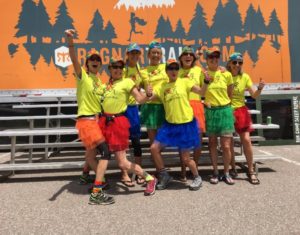 Like most athletes preparing for an event we wanted to be ready for all the trails in Snowmass had to offer us.  We made several attempts to schedule various group runs to get us out as a team and to help provide us with a bit of extra motivation.  Some of these runs involved running up Red Mountain, running boy scout trail, running the wulfshon trails and we even ran up transfer trail one morning.  We also planned various trips to Snowmass.  At Snowmass, we wanted to know all the ups and downs of each trail.  We wanted to memorize where every rock, tree root and stump were located.  This event requires each of the 8 team members to run one loop on three different trails, until the team has completed 24 loops.  Since this would mean running through the night we wanted to be extra familiar with our surroundings.
Of course, with 8 people and varying schedules we never had everyone attend every session but we did the best we could. This group of women have an extensive list of other commitments beside just getting out for a run on the trails.  These commitments include families, husbands, pets, jobs, community service activities as well as a variety of daily physical activities to keep them fit. Here is a brief list of some of their obligations.
Nancy R – leads the Roaring Fork Women's Tri Team and is involved in many other community activities
Carol Mc – assists with the Roaring Fork Women's Tri Team
Helen Mc – teaches fitness classes at the Glenwood Springs Community Center
Jenny S – is a retired health care worker and works as a life guard at the GWS Community Center for the perks of having a place to work out
Jeanne B – works full time at an office job
Heidi H – works in a hospital setting and assists with the Roaring Fork Women's Tri Team
Heidi V – teaches classes at the Glenwood Springs Community Center, CMC and has a pet sitting business
Tianna W – is a full-time hair stylist and assists with the Roaring Fork Women's Tri Team
Maureen N – (our volunteer) is a retired nurse as well as an avid triathlete and trains with the Roaring Fork Women's Tri Team
Amongst these women, they have a long list of athletic accomplishments.  These include not only participating in, but most often placing in their respective age groups.  Some events they have done are
Hundreds of triathlons – competing at all distances from sprint to Ironman
Numerous Boston Marathon Qualifications
Several Boston Marathon finishes
Numerous finishes at the National Age Group Triathlon and Duathlon Championships
A couple finishes at the World Age Group Triathlon Championships
Tons of trail and road running races
Various long-distance road biking events
Snowshoe, ski and snowboard accomplishments and even
A 60 MILE horse drive on horse back
This group was so organized, had an impressive list of past achievements, and showed determination to get out and run.  I was excited to be a part of the group and couldn't wait to get to the event and be part of fun!  Because this event requires running all day and through the night it requires setting up a base camp amongst the other teams.  It was no surprise to me that the Baby Boom Hers put together a luxury chateau for a camp site, using a 60's theme with tie-dyed curtains, shade tents, twirling flowers, glow in the dark decorations, a pot of chicken noodle soup on the stove and tie-dyed cupcakes.
As we got set up and teammates started running their legs of the relay I soon realized what intrigued me about this group.  It was their SPIRIT, their most contagious positive attitudes.  I had to stop and ponder this SPIRIT for a moment.  It amazed me so, because many in this group are either currently dealing with or have recently dealt with some serious health issues.  Issues that are bigger than a simple athletic injury that will heal in time.  Their issues have been major, life changing matters.
Nancy – had been cancer free for 10 years and in 2016 was re-diagnosed with breast cancer. She has been living with the daily challenge of coping with cancer treatments while trying to maintain her fitness level
Maureen – (our volunteer) – has been battling multiple myeloma cancer for six years
Heidi H – is a breast cancer survivor
Jenny – crashed on her bike in the summer of 2016 and had to have a hip replacement. She has been working hard ever since to regain her fitness and gait when it comes to her running stride.
Helen – had a hip replacement in the fall of 2016 due to wear and tear issues. She has worked hard to be able to run once again also.
Carol – has suffered from previous cardiovascular issues
Despite these various conditions that these women have, they just simply persevere.  They stay active and continue to sign up for events and participate to the best of their ability simply because they love it!
One woman, who has survived cancer, explained to me that partaking in an event such as the Ragnar Relay gave her something else to focus on, it gave her a goal to think about and she knew it would involve fun times with supportive friends in a gorgeous place.  She explained that she has learned fill her mind with positive thoughts instead of sitting idle and dwelling on the sad, depressing thoughts of cancer or it reoccurrence.  I was so overcome with such an amazing outlook!
Many people in the face of such adversity would be bitter, blame others or just give up.  But these women are truly fighters, they carry on and endure through the challenges placed in front of them.  They are very supportive of one another.  They laugh together, cry together and would do most anything for one another.
This became quite clear to me when in the dark of the night, one of our teammates was injured on her second leg of the event.  Tianna immediately stepped up and said she would run the injured runners third leg.  Which meant in the end, Tianna completed 4 legs of the course.  I also ran 4 legs of the course, but this had been prearranged, as Nancy knew she would only be able to complete her first two legs due to her cancer illness. Nancy was slightly concerned about this because it would mean that I would run her third leg, a 6.7mile loop, immediately followed by my third leg a 4-mile loop.  I let her know that I was happy to do this for her.
As I crossed the transition point after finishing the 6.7 mile loop to head out on the 4 mile loop, I had the wonderful surprise of being greeted by cheering teammates and Captain Nancy handing me an ice-cold water bottle!  As I gulped down some water and continued my run, I felt so appreciative for this encouragement from these amazing ladies!  It was this stepping up to assist, comfort, encourage, and support one another that I soon realized was part of this wonderful SPIRIT that surrounded this group.
When asked why they were running Ragnar, they responded:
For the camping, for the food, for the s'mores,
For the laughs, for the camaraderie,
For the adventure, for the "funishment"
For the support and bond between friends
For the pure joy of being in a beautiful place

Engaging in this event with these women made me realize that entering an event doesn't always have to be about the competition, the podium wins or the fastest times.  They showed me that just getting out there is HUGE!  That participating, having fun with friends, laughing, running because you love it, enjoying the beautiful flowers and stopping to take in the mountain view or simply cheering on your team mate and presenting her with a "fat boy" ice cream when she is finished are what really matter.  They have shown me that enjoying the moment and making the most of that moment and simply living life to the fullest are what is important. That doing the best you can with what you have at that moment has more value than sitting it out because you think you aren't as strong as you used to be.  I feel so fortunate to have been a part of this amazing group and cannot thank them enough for helping me to see these wonderful life lessons!
A special thanks to Paul Salmen for keeping us fueled with chicken soup and organizing our camp site to provide us with some well needed shade!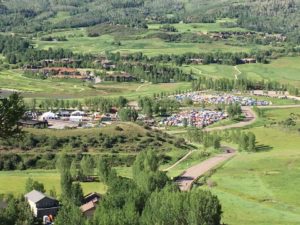 Thanks again Baby Boom Hers!   You are ALL ROCKSTARS in my book!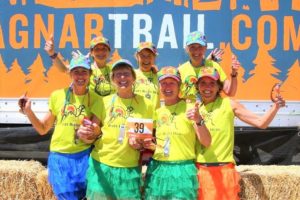 The Baby Boom Hers happily surprised themselves and ran to a 2nd place finish in the Women's Masters Category