BRION AFTER, OWNER
A running enthusiast turned his passion into the go-to running store in the rockies.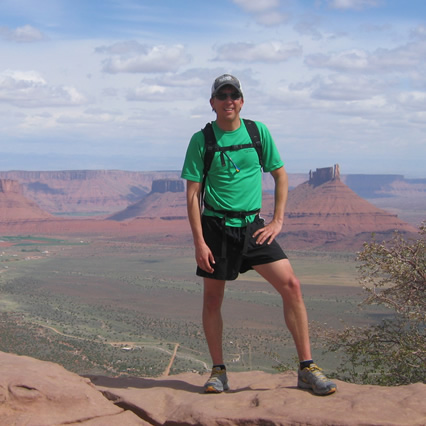 "Time to get to the mountains!"
I grew up in Rochester, NY, but I have lived in the Roaring Fork Valley for 15 years now.  I followed my brother out to the valley, after visiting him  one holiday I went back to my job and small cubicle with no view and decided I was in the wrong place, time to get to the mountains! As a kid I was a sports junkie, and an avid golfer (My first love!), I think I spent nearly all my time playing sports or memorizing sports stats.  I really got into the outdoors and running in Portland Oregon where I lived in the late 90's.
What got you into running?  Hiking?
I always credit 2 things for my getting into running, first was my roommate in Portland, he was a dedicated runner and he talked me into running with him a few times, and I loved it, it felt natural to me!  The thing that finally got me hooked was my dog, Inde, I had started running before I moved to the valley, but was really inconsistent, until I got Inde… I hated walking him, so I started to run him, and the further we went the happier we were.  We had some awesome adventures!
Tell us about your favorite race or running adventure.
My favorite race was the now defunct Elk Mountain Adventure Race, they only had it one year.  It was 13 miles of Kayaking, 30 miles of running, 30 miles of Mountain biking and a rock climb-rappel.  I ran it with a new friend who subsequently became  a great friend, and it was a perfect adventure that summed up what this valley is all about!
What is your favorite local run?
My favorite runs in the area are the 4 Pass loop- It is an iconic run where I feel like I am getting lost in the mountains.  My other favorite run is to the Conundrum hot springs, there is something about running 8 miles into the wilderness and then taking a quick dip in the hot springs before running back. Awesome.
What is your favorite piece of running gear?
Definitely my running pack or handheld, with those I can go almost anywhere.  Oh, and my Balega socks.
What is your favorite book or music album?
The Count of Monte Cristo- Alexandre Dumas- The greatest Adventure Story ever told!
Lawn Boy  – Phish- The album that got me hooked.