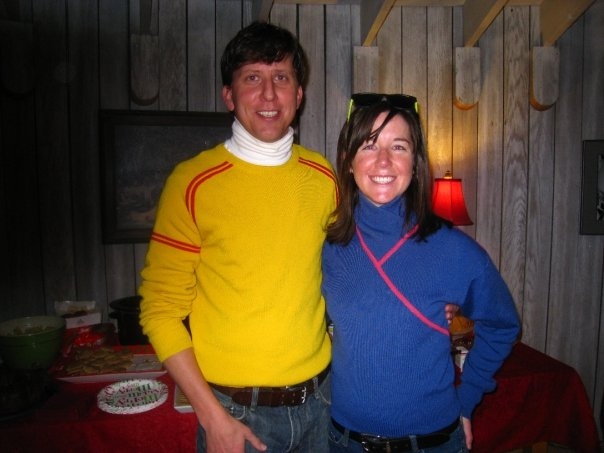 6 YEAR ANNIVERSARY SALE STARTS TODAY at Independence Run and Hike, come on by to get your new Running, Hiking and Casual clothes (all clothing is 20%-75% off!!) and shoes (shoes are mostly 10%-75% off) this is the big sale of the year, don't miss it and end up looking like these two people!
Independence Run and Hike is the Roaring Fork Valley's premier running and hiking store. We strive to provide not only the best hiking and running shoes for women and men but the expertise, equipment  and training to properly fit your foot.
In addition to our extensive selection of trail hiking shoes and running shoes we carry an excellent selection of running attire and clothes for women and men and hiking and outdoor gear for all of your running and hiking needs. So if you're looking for hiking stores or running stores within a reasonable drive from the communities of Aspen, Vail, Snowmass, Basalt or Glenwood Springs, Colorado, we're a short drive away in the "One of the Best Towns for Outdoor Living",  Carbondale, CO.
Independence Run and Hike is the Roaring Fork Valley's premier running store. As such we are dedicated to building our reputation as the "go to" place for ultra running and the serious ultra running athlete.
Our intention is to be the resource for ultra running shoes, ultra running clothing, hydration packs, gear and equipment  for this elite level athlete. Additionally we will be providing information on Colorado Rocky Mountain ultra running marathons, events, training tips, and ultra running shoe reviews and blogs from some of our area athletes.
running and hiking store, hiking and running shoes, running shoes for women and men, trail hiking shoes, running attire, clothes for women and men, hiking and outdoor gear, hiking stores, running stores, aspen, vail, snowmass, basalt, glenwood springs, carbondale, colorado
running store, ultra running, ultra running athlete, ultra running shoes, ultra running clothing, hydration packs, elite level athlete, ultra running marathons, ultra running events, training tips, ultra running shoe reviews, colorado rocky mountain, aspen, vail, snowmass, basalt, glenwood springs, carbondale, colorado