Winter is a great time to get out and ski and play in the snow but it is also a fantastic time to run trails.  Gone are the crowds of the summer and all that your left with are pristine wide open trails – albeit with a bit of snow on them.  With the right metal traction and a nice pair of wool socks, gaiters, and gore-tex shoes, no trail is off limits.  Here are a few of our favorite trails to run in the winter.
Hanging Lake
Hanging Lake is an awesome run . This steep, scenic trail travels from the bottom of Glenwood Canyon up through Deadhorse Creek Canyon to Hanging Lake. Steep switchbacks wind their way up the canyon for about 1.3 miles gaining over a 1000 feet in elevation.
In the summer this trail is incredibly crowded, to the point that it is typically not enjoyable to run.  The lack of people during the colder months make this trail an absolute delight.  It is a bit steep so I would highly recommend bringing some sort of metal traction so that you don't end up breaking anything.
Red Hill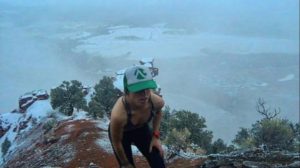 Red Hill is Carbondale's go to winter run.  The traffic that the trail gets keeps the snow packed down and run-able through the majority of the winter.  The views of a snow capped sopris from the top of Mushroom Rock are a great way to start off the day.  Ferry and bogus get a decent amount of use and are typically very doable allowing for runners to get in a decent sized loop.  The trails (especially mushroom) can be very slick and traction is always a good idea.
Prince Creek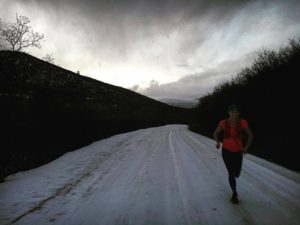 With the growing popularity of fatbiking  the Prince Creek or Crown trails are a great winter option.  This huge network of trails opens up a ton of options for winter trail running.  Monte Carlo and Porcupine are the most used trails and are your best bets, but don't be afraid to venture out and explore other trails.  It might be a good idea to bring some snowshoes along to get through any unconsolidated snow on these trails especially if there has been a recent storm.  Prince Creek road (seen in the photo above) can also be a good option if you don't want to deal with the mushy conditions on the trail,  it is a great climb up to the saddle and you can continue onto West Sopris Creek Road on the other side or bear right and head up the road towards the Dinkle Lake Trailhead which is typically packed down by snowmobiles
Blaze Your Own Trail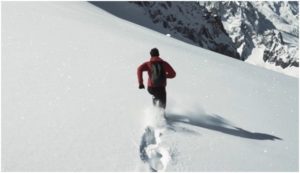 With a good pair of snowshoes and knowledge of avalanche safety the only thing holding you back is your imagination.  If the avalanche conditions are safe there is almost no peak or location that is out of reach.  Follow the skintrack up marble peak, run out to Montezuma Basin or Pearl Pass, just make sure that you are careful and use good sense in the backcountry.
Happy Winter Running!