Salomon Independence Run and Hike Race Team member Will Fisher recently got out and did some work on one of his favorite trails, Arbaney Kittle, with another local runner, Pete Fowler. Will is a reverend in the valley and an avid ultra-runner. Read on below to find out more about their experience.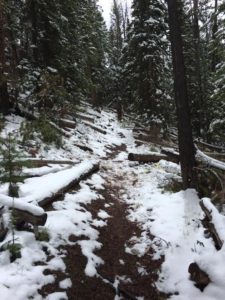 This past weekend, Pete Fowler and I had the privilege to take part in a trail work project on behalf of the US Forest Service and Roaring Fork Outdoor Volunteers for Colorado Public Lands Day. Having met previously at a Thursday group run at IRH, we hiked the entire 16 mile traverse from the Arbaney Kittle trailhead in Basalt to the Triangle Peak trailhead in Woody Creek. Its a beautiful, remote journey that takes one through three distinct ecosystems and grants one the opportunity to see a lot of wildlife. But we weren't there for the scenery (though we did see a bear). We were there to work.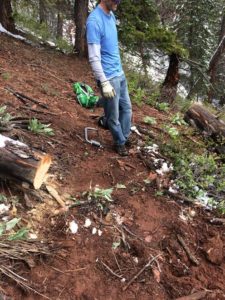 We cleared over 35 downed trees, many of which had been blocking the trail for years. Additionally, we pruned back brush, saplings, and briars that had been encroaching on the trail. This was grueling work and we wore out our work gloves as much as we did our bodies. However tired we were at the end of it, we felt very satisfied at what we had accomplished. There was something gratifying about doing physical labor and making (or in our case repairing) something that can be seen and touched. There was also something special about being able to share what you've created with others; we love this trail and our work will make it easier for others to enjoy it. Giving feels good. Finally, a well maintained trail signifies that the local community really values their public spaces and treats what has been given them with reverence. This ethos of stewardship lies at the foundation the local running community here.
What I've just written about in regards to trail work can also be said of any act of service. It's important to touch and see physical things. Service to others and to the community, especially the marginalized creates something as beautiful and sacred as the land we treasure. Just knowing that a place as beautiful and wild as the area we explored strengthens our collective soul as a people. The physical and metaphysical are often one.