Our Salomon Independence Run and Hike Race Team member Will Fisher (better know as 'Rev Run' on account of him being a local Reverend) recently completed all 58 14ers in Colorado. Below he offers some advice on climbing 14ers for those just getting into the sport.
Have you ever wanted to accomplish something impressive? Have you ever wanted to see a huge stretch of territory below you? If the answer to both of these questions is yes, then I recommend you climb a bid mountain. To be precise, I recommend you climb one of the 58 peaks in Colorado that tower above 14,000′ at the summit; aka a 14er.
Summiting a big peak can be an unforgetable experience, but there are are few precautions one should take before setting out for the summit. Remember, the goal of mountain climbing is not to reach the summit, but rather to return safely home.
Most important: select an easy mountain to attempt. Even if you are very fit and have skills as a rock climber, try one of the easier 14er's first (Sherman, Quandary, Torrey's, Grey's, Democrat, Lincoln, Elbert, Huron, or Bierstadt). This will give you sense of how your body responds to the extreme altitude of the high country; tasks which may feel easy at 6,100′ might feel a lot more challenging at 13,000′). Also, in case you decide that summiting 14er's isn't your thing, you learned this on a safer mountain. Of course, the view from an easier 14er is just as wonderful and dramatic as from a harder one. As you accumulate more experience on the easier 14er's and you feel comfortable doing them, you can then pursue harder ones (like La Plata, Massive, Harvard, Yale, etc.), then yet more challenging ones (like Castle, Blanca, Wetterhorn, Wilson Peak, Long's, etc) before graduating to most difficult and dangerous ones (Crestone Needle, Maroon, Pyramid, Capitol, Mt. Wilson, etc). To start, err on the side of easy. Even if you just want to do the easiest and safest ones, you'll still be able to summit 2/3 of the 14er's in the state and that's plenty for most people.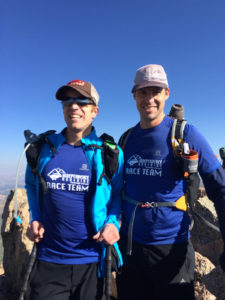 Secondly, prepare your body for the endeavor of climbing a big mountain. Train for it the way you might train for a big race, with a period of intense exercise beforehand followed by rest the few days your climb. Your training should include a mix of strength training like weights or calisthenics as well as classic cardio exercises like running, walking, hiking, cycling. Activities like team sports, yoga, and Crossfit are great too.
Finally, prepare for the logistics of the climb. That means start early in the day, usually before dawn as to avoid afternoon thunderstorms that commonly build around the high peaks of the Rockies. Keep an eye on the weather. Bring plenty of snacks and water to fuel your body during your trek. Also, remember that it can be much colder higher up; pack some warm layers. Listen to your body. Finally, make sure you have proper fitting footwear and backpack. Bring a map and research your route beforehand. Tell someone where you're going and don't climb alone. Your local running/hiking retailer can help ensure that you're properly equipped.
Remember, if you're prepared for a big challenge in the wilds of Colorado, climbing a 14er can be fulfilling. Keep in mind that there is no shame in turning around before the summit; the mountain will always be there for another day. Above all, enjoy the experience. Prepare to feel both exalted and humbled.